Welcome
A message from Vice Chancellor for Student Affairs, Dr. Brandon Frye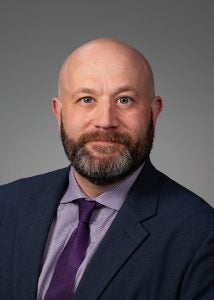 Greetings, Pirates!
On behalf of the Division of Student Affairs at East Carolina University, I would like to welcome you to our divisional website. From here, you can easily connect to our broad array of programs, engagement opportunities, facilities, support services, and student life experiences — all designed to help you get the most out of your time at ECU.
Student success is the focus of our work within the Division of Student Affairs. The programs, services, resources, and learning and engagement opportunities we provide were created specifically with you, our students, in mind. Please know that supporting your academic, career and personal-wellness goals are what we enjoy most.
I encourage students to get involved in some of the numerous on-campus events and organizations we offer to help you build new relationships, expand your knowledge and skills or learn new ones — maybe even pursue a new hobby or interest outside one's comfort zone. ECU's more than 400 clubs and organizations include fraternities and sororities, academic organizations, social, community and cultural groups and numerous health, fitness, and well-being options to explore. Many of the networking, service, educational and leadership opportunities these activities offer not only foster your academic success but also help acquire a job after graduation.
Student Affairs also provides essential resources to help with a wide range of challenges impacting today's college students. For example, we offer confidential Counseling Services for students struggling with anxiety, depression or other mental health issues. At some point in your college career, you may also need to access our Student Health clinic, Purple Pantry (food insecurity), Student Treasure Chest (student emergency funding), Career Services, the Eakin Student Recreation Center, or all of these.
Again, we are here to help our students succeed. Please don't hesitate in reaching out if you need assistance or have questions / concerns.
Be safe and well, and Let's Go Pirates!
Dr. Brandon A. Frye, Ph.D.
Vice Chancellor for Student Affairs
---
Contact
Office of the Vice Chancellor for Student Affairs
252-328-6541
vcsa@ecu.edu
Mailing Address:
112 Spilman Building
1000 E. 5th Street
Greenville, NC 27835