Professional Development
---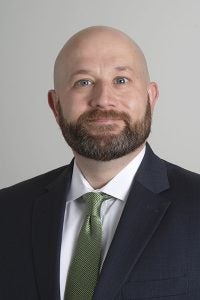 From the Desk of the Vice Chancellor
Welcome to the Student Affairs Professional Development Website of East Carolina University.  We are here to deliver a wide array of programs and services to enhance the overall learning experience, both inside and outside of the office.
Our main focus is to serve Student Affairs professionals to the best of our ability in providing them with excellent, motivating and thought provoking programs and services.  Within Student Affairs we pride ourselves in being able to collaborate with various departments and organizations to help make all of our staff feel inclusive, empowered and inspired to become leaders.
Dr. Brandon Frye
Vice Chancellor of Student Affairs
---
Vision, Mission and Values
Vision
Student Affairs foster an environment where all students achieve their academic and personal goals.
Mission
Student Affairs provides programs and services that optimize student learning and leadership, builds a safe supportive and welcoming campus community, fosters the emotional growth and personal development of students, and makes a positive contribution to the overall student experience.
Values
Student Centered: We remember that students are central to our mission.  Through collaborative partnerships and comprehensive programs and services, we cultivate opportunities that promote lifelong learning, academic success, leadership and personal development.
Integrity: We maintain open and transparent communication within the division, with students, faculty/staff and other constituents.  Integrity is exhibited when our actions are in alignment with our mission and values with honesty, respect, personal responsibility and fairness.
Service:We are dedicated to serving students and the University community as we contribute to the mission, goals, and values of the University.  We value community and provide opportunities for students to be active and responsible members of the campus and global community.
Excellence: We strive to provide high quality, value-added service and educational programs.  We distinguish ourselves by staying abreast of current and future issues and trends and maintaining a standard and expectation for quality and excellence in all that we do.
Respect: We treat each individual with high regard, appreciation and courtesy.  We honor the contributions of individuals, departments, tradition, theory and practice.
Inclusion: We value the uniqueness of people, cultures and perspectives.  We encourage diversity by promoting respect and civility, providing accessible programming and services and cultivating a community that is inclusive.  This includes a focus on collaboration and partnerships.